Swenton.COM
Details

Category: Articles
Created: Saturday, 03 November 2007 01:15
Last Updated: Friday, 09 June 2023 14:06
Written by Rick Swenton
Hits: 8308
Welcome to Swenton.COM.We are not a business. We do not sell any product or service. We're in this only for the pure fun of it.  On this web site you will find chronicles of my technology adventures, Ham Radio and Home Automation projects. Enjoy your visit!

"Better to write for yourself and have no public, than to write for the public and have no self."  -Cyril Connolly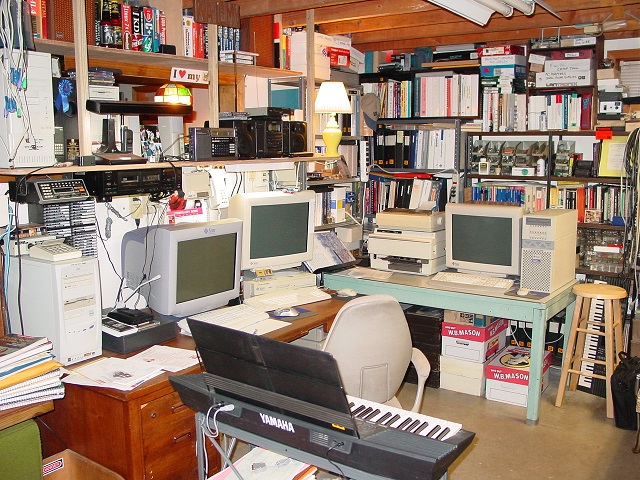 Here's an areal view of the Man-Cave at Swenton.COM circa 2002. We don't have all those analog monitors, tower PCs and Sun Servers anymore! In those days I had a lot of reference books.  I had the complete line of National Semiconductor Digital and Analog IC books along with the complete line of Texas Instruments Transistor and IC books.  I had the full set of Motorola Transistor books too.  Don't forget the RCA Vacuum Tube manuals and a copy of the RCA Radiotron Designers Manual.  Now all these can be found on the internet. I did keep the RCA Tube manuals and the Radiotron Designers Manual. That one was given to me by a designer who worked with my Dad. 2002 photo.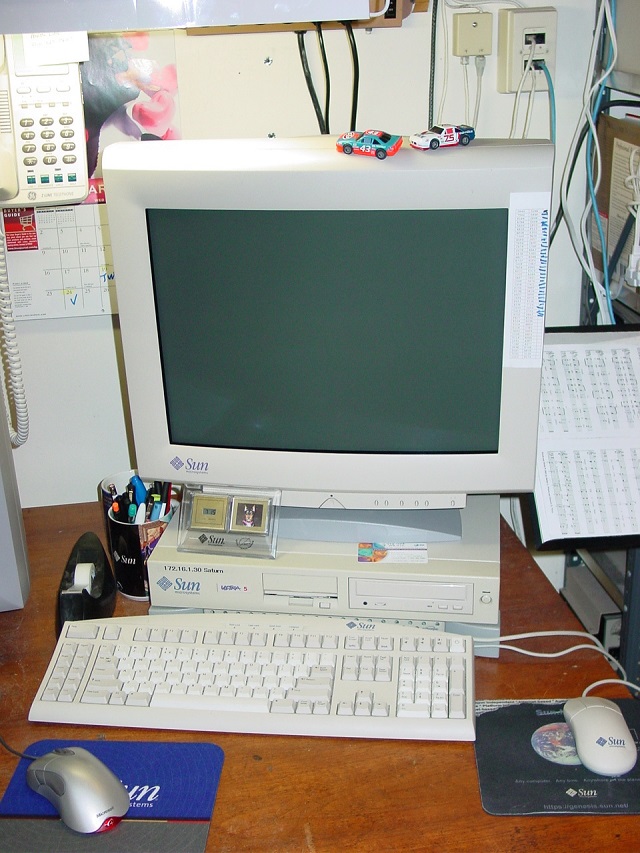 I had a Sun Ultra-5 Workstation. Those cars were working slot cars. That strip of paper with the blue marks taped to the side of the monitor is a list of VPN tokens.  In those days we had a Token Card for VPN access at work.  It was like a small credit card sized calculator with a display.  When you logged into VPN the card would give you your next login code.  I was too lazy to keep going for the card so I pre-generated the next 25 responses and put them on paper.  Later on they figured someone would be doing this so they changed it so the system would give you a challenge code to type into the card.  The card would then provide the response code so you could not pre-generate them.  A few years later they eliminated the card and tied your VPN credentials to the ID of your laptop. 2002 photo.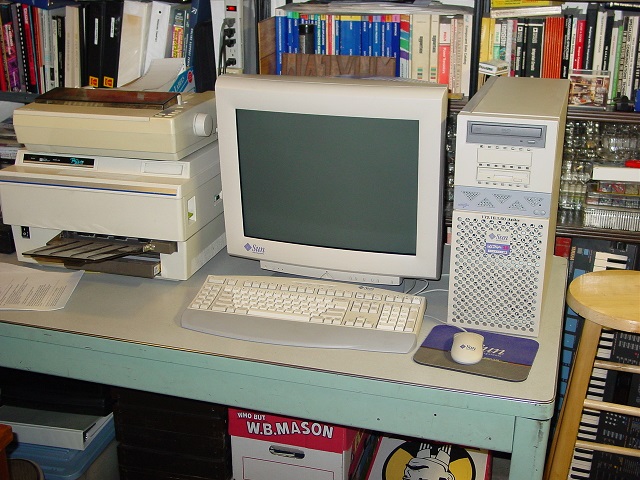 I had a Sun Ultra-30 Workstation. That printer was a QMS Postscript printer with a Canon CX engine.  The interface was serial only and Apple friendly.  They were challenging to get running on a PC, Linux and Solaris. That was my first Postscript printer.  I spent a lot of time writing raw Postscript programs and running them on the printer to produce interesting things on paper.  I obtained two Sun Ultra-30 workstations from the Pratt & Whitney company surplus store.  They came without hard drives but that was no problem.  We had access to Sun S1 storage arrays that had rack cabinet shipping damage. They were replaced and we got to keep the old ones.  Other than some cabinet scuffs they all worked fine. 2002 photo.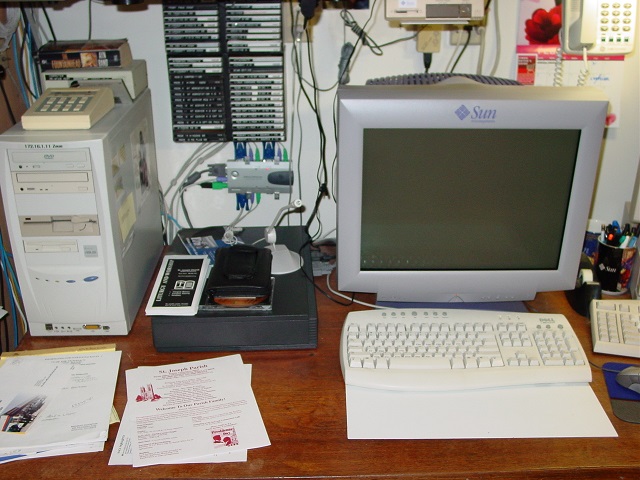 And, of course, I had a Windows workstation. The Sun monitors were Sony Trinitron displays in disguise.  With the right Sun VGA adapter cable, they plugged into PCs and worked nicely. 2002 photo.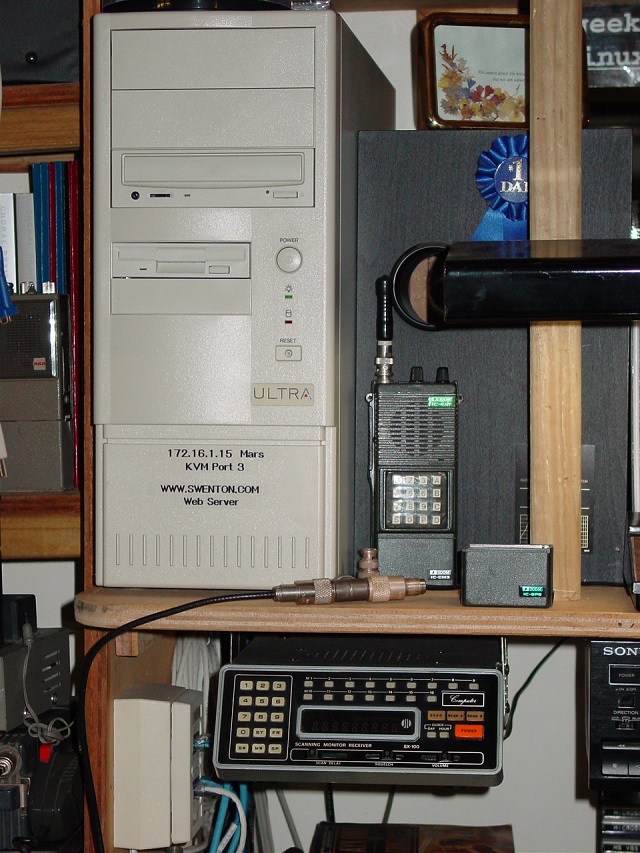 I also operated a server for Home Automation.  The server doubled as a mail server when I was foolish enough to think it was a good idea running a mail server at home.  It was great learning experience.  Next to the server is an ICOM IC4AT handheld Ham Radio. Below it is a communications scanner receiver. 2002 photo.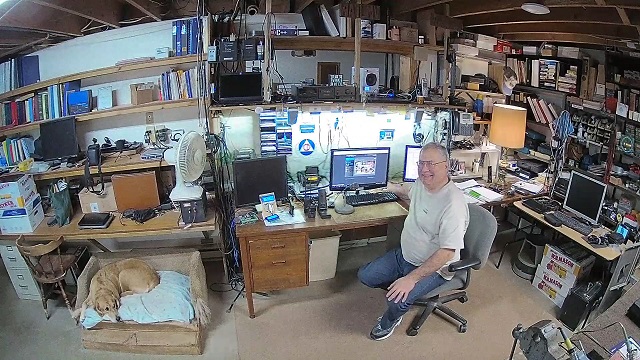 This is what the man-cave looked like in 2018 before I retired and sold the house.  Most of the books, binders and reference manuals are gone and some shelves are bare. Old hardware was recycled. Swenton.COM is much smaller now but it is still home. Click on the photo for a higher resolution image. 2018 photo.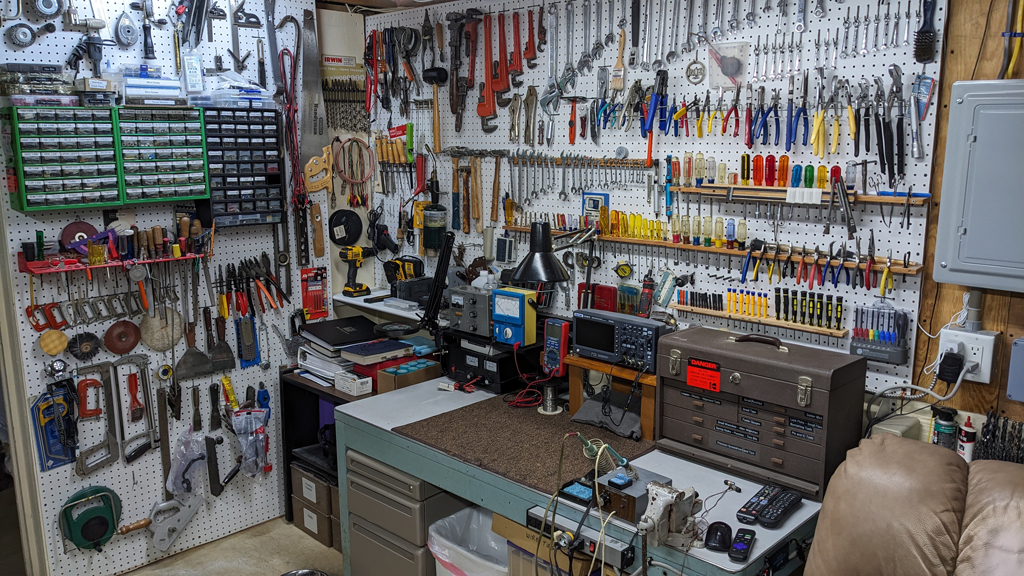 I started building the new man-cave in 2019.  I started with the workbench to make it convenient to continue designing and building things and pursuing new Ham Radio projects.  In 2020, walls were erected around the rest of the perimeter of the room.  Lighting, outlets and network connections were finalized. Click on the photo for a higher resolution image. 2020 photo.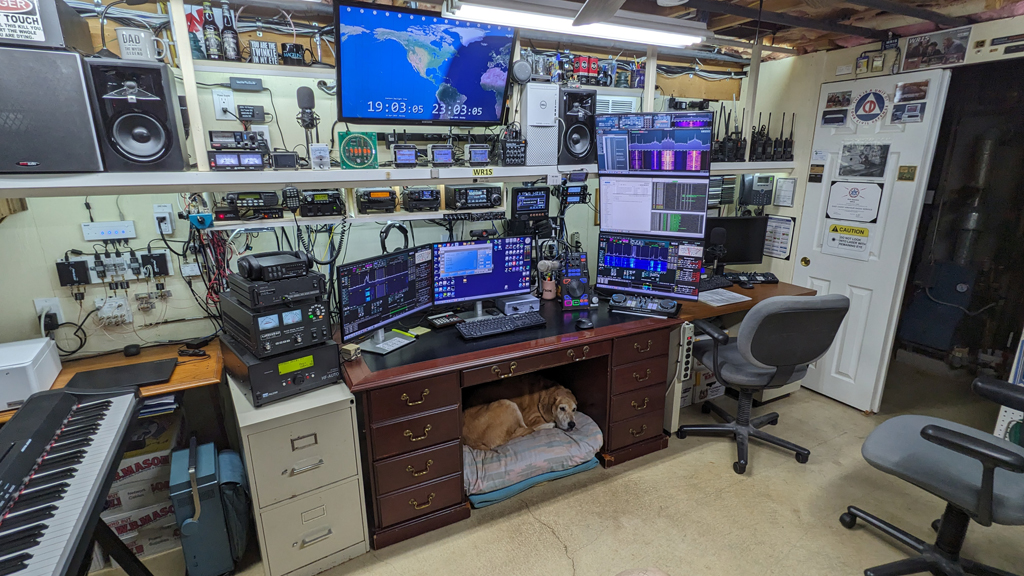 Here's what the new Ham Radio station looks like after renovations in the summer of 2020 and after the upgrades in the summer of 2021.  There's just too many wires to make it look pretty. Unlike Ham Radio equipment of old the modern equipment is smaller and has fewer controls.  In fact, my best radio only has a power switch.  Everything is controlled from the computer screen.  My dog, Gracie, lives under my desk.  It was her choice.  Sometimes we have to share. Yes, that is an original Civil Defense logo on the wall. Besides being affiliated with the local Civil Defense as a ham radio operator I was certified in fallout shelter management and radiological monitoring.  Back then we thought it was possible to survive a nuclear war. We could ... for about a week or two. Click on the photo for a higher resolution image. 2021 photo.
The panoramic view is more impressive and highlights the efficiency and organization of the layout. 2021 photo.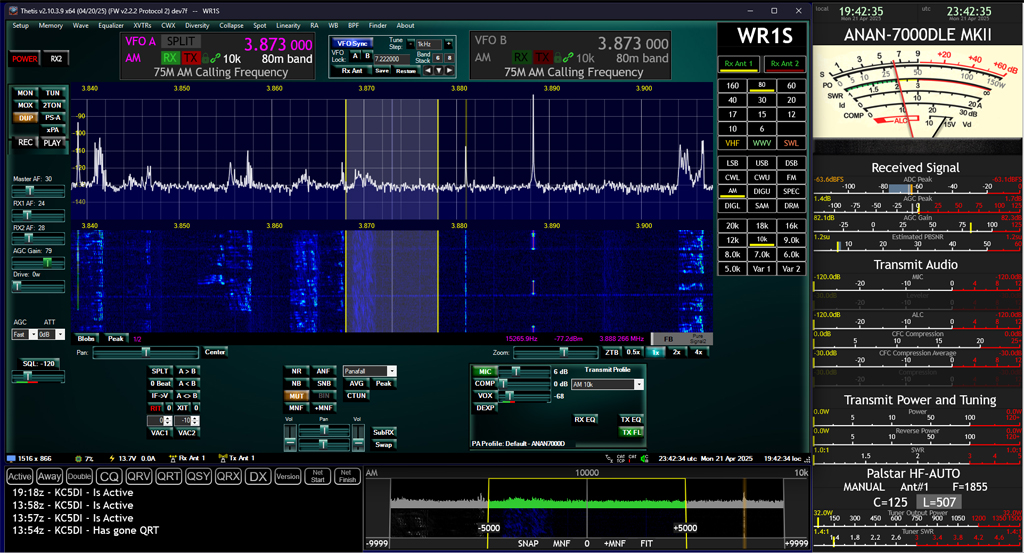 The image above is a typical screen showing the program used to control the Software Defined Radio (SDR) transceiver. When you operate this radio and software it makes you feel like you work for the NSA.
To see what was going on from around 1982 to 1996 at Swenton.COM click on:  1990 Computer Lab