Site Content
Rachel's Graduation
Details

Category: Family
Created: Monday, 25 May 2009 15:35
Last Updated: Saturday, 05 January 2019 14:56
Written by Rick Swenton
Hits: 4597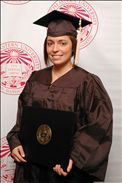 On May 1, 2009, Rachel graduated from Northeastern University in Boston with a BS Degree in Management Information Systems.  This was an exciting day for our family.  We had a most pleasant experience at Northeastern University with both our daughters attending.  This day was bittersweet as it was the end of our family's presence on campus for the past nine years.  It was also the start of the next phase of Rachel's life as she prepares to travel to Seattle to start her new job at Microsoft in July.
From June to December 2008 Rachel did a co-op assignment at Microsoft.  As she began her senior year back in Boston in January 2009 Microsoft offered her a full-time position when she graduated.  How nice it was to know that you already had a great job lined up as you started your senior year.  When the economy took its serious downturn we were worried that Microsoft would have announced that it was retracting job offers.

In April 2009 Rachel received an email from Microsoft with an official title regarding her job offer.  Her heart raced as she read that Microsoft was informing her that her offer was still good and that they were expecting her in July.  What a relief!
The Boston Garden was not quite packed on Friday, May 1, 2009 for the graduation ceremony.  There was a hockey game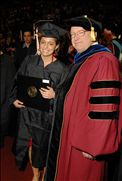 scheduled for that evening and there was a layer of ice on the floor.  They placed wood sheets on the ice so the graduates could sit in the center of the stadium.  It was not a hot day outside so it was rather cold inside the stadium.  Nevertheless, it was way better than having it hot and humid.
Unlike some colleges that give fake diplomas on graduation day, Northeastern actually distributed real diplomas.  They did not call out each name individually.  They created four lines and distributed diplomas four at a time.  All in all, the ceremony was well planned and executed efficiently.
It was surprising that there were no difficulties getting in and out of Boston Garden.  We parked at the college and took the T to the Garden.  After the ceremony we took the T to the restaurant for a nice dinner with Rachel, her friend Jon, Cathy and Kevin, and Mom and Dad.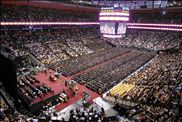 After dinner we headed to the dorm to make the final move-out of Rachel's belongings.  Unlike her sister Cathy, Rachel was totally prepared for the move-out and had most of the things already boxed.  Even with all but one seat removed from the van we managed to completely fill the van with no room for Mom!  She had to ride home with Cathy and Kevin!  (Mom does not like the way the van rides when it is overloaded.)
Rachel moved to Seattle at the end of June 2009.  One big chapter in her life is closed now and another big one is just beginning!