Software-Defined Radio on the Cheap
Details

Category: Ham Radio
Created: Wednesday, 22 July 2015 14:07
Last Updated: Monday, 21 January 2019 01:06
Written by Rick Swenton
Hits: 2142
What is a Software-Defined Radio (SDR)? 
A very simple definition is a radio in which some or all of the functions are defined in software.  Some SDRs require an external computer to provide the software control.  Others are stand-alone and the computing functions are build in.  Still others are both and allow an external computer to enhance the functionality of the built-in computer.

Why SDR?
It makes a lot of sense to keep the radio hardware as plain and simple as possible if you can define the radio's functionality in software.  Then only a few different hardware designs are needed to serve an unlimited variety of applications defined in the software.  For example, using an SDR in a cellphone, if the FCC opened up new frequency bands for cellular use all you would need is a firmware upgrade to the cellphone to open up its radio to the new frequencies.  Because of SDR the cost of the hardware is going down rapidly.  Read More.

So how do I get into the exciting field of SDRs?  Go out and get a DVB-T dongle!

What is DVB-T?
From Radio-Electronics.com:
DVB-T or Digital Video Broadcast - Terrestrial is the most widely used digital television standard in use around the globe for terrestrial television transmissions. It provides many facilities and enables a far more efficient use of the available radio frequency spectrum than the previous analogue transmissions.

The DVB-T standard was first published in 1997 and since then it has become the most widely used format for broadcast digital in the world. By 2008, it was the standard that was adopted in more than 35 countries and over 60 million receivers deployed and in use.  Read More.

DVB-T is a digital TV format that is not used here in the USA. We use the ATSC format for digital TV broadcasts. A DVB-T dongle is totally useless in the USA for watching Digital TV as it is provided when purchased.  There is software available to transform the dongle into a general purpose SDR!

Get your DVB-T Dongle.
Here's the one I bought on Ebay for $12.99.  I have seen them for as low as $8 but they ship from China. Be sure the one you order says RTL2832U - R820T2.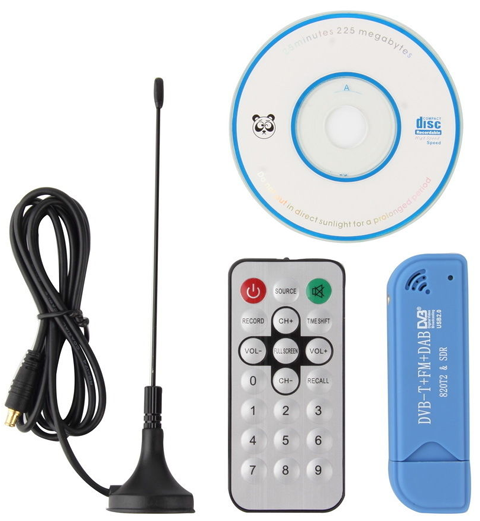 It comes with a small magnetic base antenna.  It also comes with a remote control you will not use and a CD.  Do not install any software from this CD.

Get your SDR software for the dongle.
Go to the HDSDR Home Page and press the Download Button at the bottom of the screen to download the latest copy of HDSDR.  HDSDR is a freeware Software Defined Radio (SDR) program for Microsoft Windows 2000/XP/Vista/7/8/8.1.  This software will transform the DVB-T into a full-blown SDR capable of receiving AM, FM, SSB, CW and DRM broadcasts.

These units are based on the R820 (R820T2) tuner IC and have a frequency capability of  around 25MHz-1750MHz. There is also an RTL2832 (RTL2832U) IC on board which acts as the demodulator and USB interface.

What can I receive with the HDSDR software and the Dongle?
Using the HDSDR software and the DVB-T dongle with the small antenna provided I was able to receive many 2 Meter FM Ham repeaters, commercial FM Radio, NOAA Weather Radio, and numerous Land Mobile Radio signals even in the 800 MHz band!  Keep in mind that for a $12 dongle you are not getting a professional grade receiver with a good dynamic range.  Still it is a wonderful experience exploring all the options and learning how to operate and control an SDR.

The antenna connector on the DVB-T dongle is an MCA Female jack.  You can find many pre-wired adapters and pigtails on Amazon and Ebay.  If you want to connect a better antenna you will need a pigtail with an MCA Male connector on one end and the connector of your choice on the other end.

What if I want to receive signals below 25 MHz?
You are in luck.  There are several upconverters available.  I purchased this one on Ebay for $39: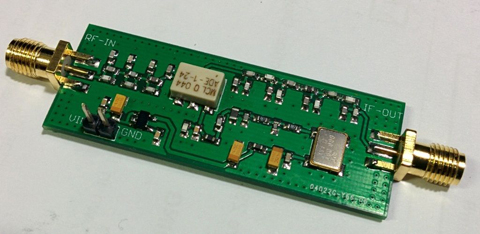 Here are the specifications:
Based on Mini Circuits ADE-1-24 passive mixer
3.3V low noise LDO for 125MHz LO
Two Female SMA socket for RF-IN and IF-OUT
Elliptic (Cauer) low pass filter used for RF-IN
Bessel band pass filter used for 125MHZ LO
Butterworth band pass filter used for IF-OUT
Requires DC 6V - 9V Power Input
PCB Size = 5.6 x 2.0 cm
This device receives 2 to 30 MHz and upconverts the signal to 125 MHz.  All you have to do is connect this between your antenna and the DVB-T dongle, power it up with 9 volts (I used a 9V Battery), change a setting in the HDSDR software to tell it you are using a 125 MHz upconverter and the HDSDR will directly tune and display your 2 to 30 MHz signal on the monitor.  The upconverter has SMA female connectors on both ends so you will need an SMA Male to MCA Male pigtail.  This one was $6 on Amazon.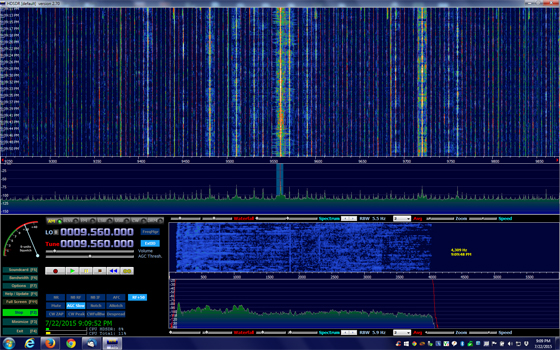 Here is a screen shot of the HDSDR software receiving Radio China International on 9.560 MHz.  It is hard to see the settings details in this photo. Take a look at the Screenshots Tab on the HDSDR web page for better detail.
Next Step:  What about receiving Land Mobile Radio Trunking Systems?
A Trunked Radio system is a multifrequency repeater that uses a block of radio channels to share among a large group of users.  For example, on Cape Cod the various municipal police and fire departments share a trunking system.  There are about 14 channels but way more than 14 police and fire departments.  Because not everyone will want to talk at the same time the computers in the car radios and at the repeater site automatically select a channel without user intervention.  The problem is if you want to use a conventional police scanner to monitor the radios.  The scanner would have to have a computer to decode the control commands and constantly change channels.  That's what the Trunk Tracker Scanners do.
Guess what?  There is another free software program called Unitrunker.  Unitrunker supports USB dongles that have the R820T tuner.  Unitracker will make your DVT-B dongle capable of becoming a Trunk Tracking Scanner Radio.
These are the trunked systems Unitrunker can decode:
EDACS Standard 9600 Baud and Narrow 4800 baud (Normal, ESK and Site Pro / Extended Addressing)
LTR (with supporting radio)
Motorola Type I
Motorola Type II (SmartNet / SmartZone / OmniLink)
Motorola Type IIi Hybrid
Project 25 9600 bps
MPT-1327 systems
Take a look at This Page on Hamradioscience.com.  I have not tried Unitrunker yet but it seems you need two receivers.  One will be tuned to the control channel which contains all the trunking data.  That is the information needed to know what channel to jump to and listen to.  The other receiver will receive the audio and will be tuned by Unitrunker to the desired channel based on the data received from the control channel.  I have not explored Unitrunker yet but I am wondering if two DVB-T USB sticks can be used as receivers.  The Hamradioscience site says this should work.
More to come!