SDRPlay RSP2
Details

Category: Ham Radio
Created: Monday, 06 November 2017 00:07
Last Updated: Monday, 21 January 2019 06:06
Written by Rick Swenton
Hits: 2704
Software Defined Radio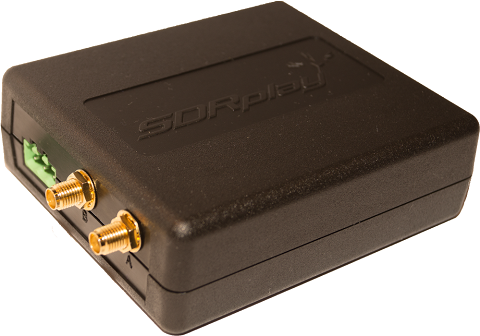 The SDRPlay RSP2 is am amazing, inexpensive general purpose communication receiver.  Connect to the USB port on your computer and connect an antenna and you are good to go.  It comes with robust control software called SDRUno.  Using other free software which works together with with SDRUno you can decode NXDN, DStar, DMR and even DRM on Shortwave.  A free audio director program can intercept the digital audio output from the SDRPlay and direct into the input of the other programs like Dream DRM.  You don't even have to make or buy any sound card cables!


Continuous coverage from 1 kHz to 2 GHz
Up to 10 MHz visible bandwidth
Powers over the USB cable
12-bit ADC silicon technology (not another 8 bit dongle!)
8 built in front-end pre-selection filters
Software selectable multi-level Low Noise Preamplifier
SDRuno—World Class SDR software
2 x SMA Software Selectable Antenna Inputs
1 x High Impedance Input for long wire antennas
Software selectable MW /FM notch filtersHighly stable 0.5PPM TCXO trimmable to 0.01PPM
Here is a screen shot of the RSP2 being controlled by the SDRUno software and the Dream DRM decoder.  Radio Romania is coming in on 5.970 MHz Shortwave.  The receiver is set to 5.975, 5 KHz higher so the whole 10 KHz wide DRM signal is above the tuned frequency.  Look at how square the signal is in the center of the spectrum display and the waterfall display.  The DRM signal takes no more room than a high quality AM signal and delivers near FM mono quality audio to the computer speakers. The whole screen is the SDRUno software except for the white box in the upper right.  That's the control panel for Dream DRM.  If Radio Romania were also broadcasting text those messages would appear in the small white box.

Click Here
to listen to an audio recording made in Connecticut USA around 23:00 UTC.  There will be occassional dropouts from shortwave signal fading but there will be no static.